PROMOTE YOUR BUSINESS!
If you'd like to SPONSOR the show, please CONTACT us!  We'd love to hear from you!   We have sponsorship opportunities at all levels.
DANCING STARS OF HUMBOLDT
is BACK in 2019!
March 9th, 7pm at the
Arkley Center for the Performing Arts
BOOST OUR SCHOLARSHIPS!
If you'd like to donate to help boost our scholarships, just click the button and send us whatever you can... every dollar helps, if we all work together! The dancers thank you!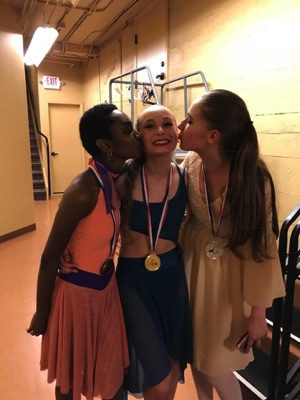 DSH 2018 Winners
Left to right:
Bronze: Rebecca Nugent
Gold: Hope Magee
Silver: Caitlin Nolen
Visit our Indiegogo Campaign, and help raise money for our scholarships!
Please note that the 2019 show will allow dancers to elect whether or not you will apply for scholarships.
Dancers who complete the required info will be eligible to win. Winners will be announced at the end of the performance. More info HERE.
dancingstarsofhumboldt@gmail.com