Executive Board Members:
Gailey Browning, President
Cherie Arkley, Vice President
Roy Corsetti, Treasurer
Nancy Flemming, Secretary
Members of the Board:
Allison Arkley Holland
John Ash
Lora Canzoneri, Emeritus
David Martinek (advisory)
Connie Miller
Michele Rieke
Sue Santsche
Lynette Sheldrake
Laurie Watson-Stone
NCD's Board of Directors meets approximately once a month, and is open to public comment. To contact the Board, please email Eliza Klinger, Business Manager.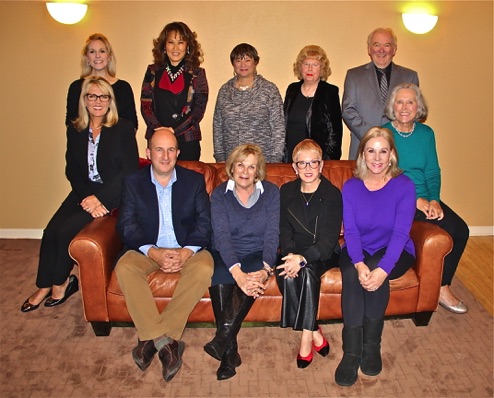 Gailey Browning, President
Gailey has a Masters Degree in Costume Design, and a Masters of Fine Arts in Theatrical Design. She is Board President of North Coast Dance and also designs costumes for the Nutcracker. Gailey is an Interior designer, Events Specialist, and manager of the Arkley Center for the Performing Arts. She also sits on the Design Review Committee for the City of Eureka.
Cherie Arkley, Vice President
Cherie Arkley is a long time resident of Eureka, having grown up in the San Francisco bay area.
Cherie and her husband Rob, have always been quite active in civic projects in Eureka. They have restored many of Eureka's historic properties. Cherie and Rob own the Arkley Center for the Performing Arts. Cherie is also a Registered nurse, having worked locally for St. Joseph's Hospital, and a local physician. She served on the Eureka City Council 1998-2002.
Cherie's interest in North Coast Dance is long standing. Cherie and Rob have 2 grown daughters who spent many hours learning dance, and performance. Cherie believes that the value of a professional level dance and performing arts company affects countless lives in a community. Cherie and Rob are so proud to support North Coast Dance.
Roy Corsetti, Treasurer
Roy E Corsetti has been a local CPA for 27 years.  He has been the sole owner of his practice in old town Eureka since 2013.  Roy serves as the Treasurer on North Coast Dance's Board and provides his CPA expertise to various nonprofits in the community such as the Sequoia Park Zoo Foundation.  Born and raised in Eureka, Roy graduated from Humboldt State University in 1989.
Nancy Flemming, Secretary
Nancy Flemming, former Mayor of the City of Eureka, and staunch supporter of the arts, currently serves on the board of North Coast Dance, Redwood Art Association and former board member, Humboldt Arts Council. Flemming, currently Executive Director of the Sequoia Humane Society, has served on the Board of Directors of the North Coast Dance for more than 12 years.
Allison Arkley Holland
Born in Eureka, CA, Allison began dancing at the age of three. She attended
summer programs at the Juilliard School, and American Ballet Theatre in New
York City. Allison graduated from New York University's Tisch School of the
Arts. Following graduation, she was one of four dancers selected to be in
the inaugural troupe to open the Baryshnikov Art Center; a partnership
formed between NYU's Tisch School of the Arts and the Baryshnikov Arts
Center.
Allison holds a Bachelor's of Fine Arts from New York University. She earned
her Master's of Business Administration from Louisiana State University, and
a Juris Doctorate from Pepperdine University School of Law.
Allison is a licensed attorney in the State of California. Allison proudly
lives in Eureka with her husband, and their daughter.
John Ash
John was born in Vallejo, California and raised in Detroit Michigan. After graduating from High School he joined the Navy as a photographer and served for four years during the Vietnam War with primary assignments in aerial photography and photo intelligence. Upon discharge John returned to Michigan to attend Oakland Community College where he served as Student Body President for a one-year term before transferring to San Diego State University.
At San Diego State he served on the Student Council, and as managing editor of the Daily  Aztec newspaper. It was at San Diego State that John first turned his interests to architecture. While attending summer classes at U.C. Davis, John studied under architectural professor, Sim Vander Ryn. It was this event that exposed him to an art form and profession that ignited both his mind and creative spirit. After graduating from San Diego State John transferred to the Boston Architectural Center (BAC) for his graduate studies in architecture.
The BAC provided an opportunity to work and teach architects on the adaptive re- use of  important buildings. Upon completion of work at BAC John moved to Los Angeles where he founded John Ash Group, Architects.  John has over 30 years experience as a registered architect and principal of his own firm.
John takes an active interest in community activities. He served for several years as a running coach for the Special Olympics and still finds time for adventure sports,  including running, swimming, kayaking, bicycling, and flying.  The highlight of his athletic career was completing the Ironman Triathlon in 1990
Lora Canzoneri
Lora has been involved with North Coast Dance since its inception—serving as House Manager for our first production of The Nutcracker in the 1970's.  She performed as the "Cheeky Maid" and Mother Ginger in thirteen seasons of The Nutcracker.  In 1993, she was appointed to the Board of Directors and continues to serve as Board Member Emerita. 
She has also served on the Board of Directors for Humboldt Sponsors, the Morris Graves Museum of Arts, and the Humboldt Del-Norte Film Commission; and she currently serves on the Board of Directors for KEET, Humboldt's local PBS affiliate.  In 2015, Lora and her husband Joel were the recipients of the Humboldt Arts Council's "Outstanding Contribution to the Arts" award.
Connie Miller
Connie is a retired business manager/bookkeeper for Roger Miller DDS. She is currently a board member of Dream Quest youth agency in Willow Creek, CA, and formerly their board president.
Connie is also a former Eureka City Council member, an Honorary Lifetime member of the California PTA. She served for 5 years as Treasurer of the First Presbyterian Church, Eureka, and somehow found time to be a Girl Scout leader for 6 years. She is currently a member of the Costume Department at North Coast Dance, specializing in costume construction and props.
Michele Rieke
Having lived most of my life in Humboldt County, Michele and her husband Jack are local business owners and active community members. Michele and Jack raised two beautiful children and are now the proud grandparents to Brynn and Beckston.  For the last 26 years, Michele has worked for St. Joseph Health, currently as the Director of Human Resources.
As one of the newest board members of North Coast Dance Michele is excited and honored to serve and look forward to supporting the program and dancers.
Sue Santsche - bio coming soon!
Lynette Sheldrake
Dance has been a part of Lynette's life for many years.  She began dancing at the Merriweather School of Dance when she was in fourth grade.  Throughout her whole life she has taken classes in ballet, tap, jazz, and belly dance.  Lynette performed in NCD's Gabriel's Garden, Jack and the Beanstalk, and as Grandmama and Mother Ginger in the Nutcracker for ten consecutive years.   
Active in the community, Lynette served as a volunteer at Saint Joseph's Hospital for nine years creating floral arrangements for the gift shop.  And Since 2001, Lynette has served on the North Coast Dance Board of Directors where she still enjoys taking ballet.
Laurie Watson-Stone
Laurie Watson Stone, has been with Redwood Memorial and St. Joseph Hospital's for 27 years and is currently the Vice President of Operations.   Laurie is very active in the community and also currently serving on the Eureka Chamber of Commerce.  Laurie strongly believes in supporting the community and has done so by serving as a board member for several organizations including: Humboldt Arts Council, Hospice of Humboldt, Humboldt State Alumni Association, Vector Health, KEET TV 13, Humboldt Sponsors, American Red Cross, Big Brothers and Big Sisters, American Heart Association, American Cancer Society and others.  Laurie has been an active on North Coast Dance's board for several years. 
Back Line: Allison Arkley Holland, Ahn Fielding, Lora Canzoneri, Lynette Scheldrake, John Ash
Center Line: Laurie Watson-Stone, Connie Miller
Front Line: Roy Corsetti, Gailey Browning, Nancy Flemming, Cherie Arkley